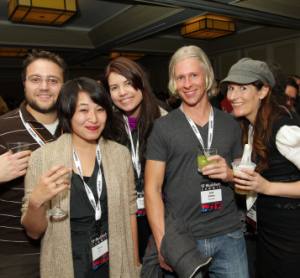 Opening Night Party
Monday, December 1, 2014 at 5pm – 7pm+
Ssisso Korean Restaurant
1700 Post Street @ Webster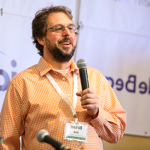 The Future of Money & Technology Summit
Tuesday, December 2, 2014
Hotel Kabuki
1625 Post Street

= Virtual Currency Track
Time
Topic
Place
8:30 – 8:50
Registration & Breakfast
Imperial Room
8:50 – 9:10
Welcome & Opening Remarks
Brian Zisk, Executive Producer, The Future of Money & Technology Summit
Sakura Room
9:10 – 9:20
BREAK
9:20 – 10:20
MORNING SESSIONS I 
The Future of Money Management Technologies: A Fireside Chat
Host: Holly Ruxin, Montcalm TCR
Barry Saik, Intuit
Bill Harris, Personal Capital
Sakura Room
Fueling the Decentralization Movement
MODERATOR: Dan Robles, The Ingenesist Project / Coengineers, PLLC
Paige Peterson, MaidSafe
Sam Yilmaz, Decentralized Applications Fund
Joel Dietz, Swarm
Christian Peel, Ethereum
Spring Room
Elevator Pitch
HOST: Brian Zisk, Future of Money & Technology Starring YOU! All are welcome to stand up and present an up to 1-minute pitch about their company or idea, to connect with others who may want to work with you.
Osaka Room
10:20 – 10:40
BREAK
10:40 – 11:40
MORNING SESSIONS II 
Braintree API Demo
Justin Woo, PayPal + Braintree

The API Ecosystem
MODERATOR: Christine Loredo, Yodlee
Jeff Kaditz, Affirm
Mark Schulze, Clover
Jacob Rosenberg, LendUp
Jonathan LeBlanc, PayPal + Braintree

Sakura Room
Bitcoin
MODERATOR: Mark Rogowsky, Forbes
Jackson Palmer, Dogecoin
Sonny Singh, BitPay Inc
Adam Draper, Boost VC
Sean Percival, 500 Startups
Spring Room
The Future of Money & Healthcare
MODERATOR: Carleen Hawn, Healthspottr
Chris Lunt, GetInsured
Brian Ascher, Venrock
Evan Richardson, Grand Rounds
Osaka Room
11:40 – 1:00p
LUNCH BREAK
Explore the Japantown Mall
1:00 – 2:00
AFTERNOON SESSIONS I 
Leveraging the Blockchain
MODERATOR: John Pettitt, Cloudview LLC
Andrew Barisser, Assembly
Gregory Maxwell, Blockstream
Nicholas Thorne, BlockSign
Spring Room
How Will Society Exchange Value in 2025?
Daniel Erasmus, The Digital Thinking Network & NewsConsole
Osaka Room
1:00 – 1:30
Angel Investing: Behind the Scenes
David S. Rose, Gust / Rose Tech Ventures / New York Angels
Sakura Room
1:30 – 2:30

Bridging Startups to Banks:

I. Opening Remarks by Innotribe
Kemal Batu, SWIFT

II. Corporate Investing in FinTech
MODERATOR: Mike Sigal, Cashflower
Jay Reinemann, BBVA Ventures
Ramneek Gupta, Citi Ventures
Pete Casella, JP Morgan Chase & Co
Jaidev Shergill, Capital One Ventures

Sakura Room
2:30 – 3:30
AFTERNOON SESSIONS I 
New Products & Technologies Demos
Nick Sullivan, ChangeTip
Jamie Cohan, AllRounds
Jim Collier, Dotwerx
Gary Le, ZeroBit
Rishi Taparia, Poynt
Startup Showcase Winners
Startup Showcase Winners announced!
Sakura Room
Stellar: Building a Common Financial Platform
MODERATOR: Dan Rosen, Commerce Ventures
Joyce Kim, Stellar
Greg Brockman, Stripe
Jed McCaleb, Stellar
Spring Room
Money & Design
Joe Robinson, Circle

HTML 5 vs. Native App Development
Jeanine Swatton, Yodlee

Osaka Room
3:30 – 4:00
BREAK
Imperial Room
4:00 – 5:00
AFTERNOON SESSIONS III

Visions of the Future of Money


MODERATOR: John Shinal, USA Today
Bill Tai, Charles River Ventures
Nick Shalek, Ribbit Capital
Dan Morehead, Pantera Capital
Sakura Room
Faster Payments
Chris Larsen, Ripple Labs
Suresh Ramamurthi, CBW Bank
Steve Kirsch, Cointrust
Greg Kidd, Hard Yaka
Jordan Lampe, Dwolla
Spring Room
Innovations for the Underserved
MODERATOR: Rose Broome, HandUp
Arjan Schütte, Core Innovation Capital
Marla Blow, Fenway Summer
Ryan Falvey, Center for Financial Services Innovation (CFSI)
Kiril Gantchev, BitLending Club
Osaka Room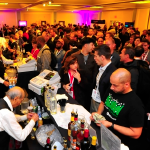 Summit Cocktail Party
Tuesday, December 2, 2014
5:00 – 7:00 pm immediately after the panels
Hotel Kabuki, 1625 Post Street
Registered Summit attendees only.

Speakers on December 2, 2014
Brian Ascher, Venrock, Partner
Brian Ascher joined Venrock in 1998 as a Kauffman Fellow and is currently a Partner based in Venrock's Palo Alto office. Brian invests broadly across enterprise and consumer internet markets. Brian currently serves on the Board of Directors of several companies, including Vocera (NYSE:VCRA), Better Finance, Retail Solutions, Inrix, Personal Capital and Dynamic Signal. Past investments include ADiFY (acquired by Cox Enterprises), DATAllegro (acquired by Microsoft), Redbeacon (acquired by Home Depot), Tudou (acquired by Youku), RelayHealth (acquired by McKesson) and Unicru (acquired by Kronos). Prior to Venrock, Brian was a Senior Product Manager at Intuit responsible for Quicken and Quicken.com, and earlier in his career was a Strategy Consultant at the Monitor Group. Brian has been named to the Forbes Midas List multiple times, for the VCs who have backed the most profitable winners in the last four years. Brian received his B.A. from Princeton University and his M.B.A. from Stanford University Graduate School of Business.
Andrew Barisser, Assembly, Bitcoin Engineer
Andrew is an avid Bitcoiner working on Colored Coins in finance. He has a physics background from MIT and UCSB, where he pursued research in soft matter biophysics. For 2 years he served in the Peace Corps in Cameroon and Guinea as a teacher. Follow Andrew on Twitter: @abarisser


Kemal Batu, SWIFT West Coast, Senior Regional Manager
Kemal Batu is a Regional Manager at SWIFT, responsible for business development and account management efforts on the West Coast of the United States.
Before assuming this role in December 2008, he was the Global Technical Relationship Manager for several of SWIFT's largest banking clients based in London, working closely with stakeholders and clients to redesign and enhance their SWIFT Infrastructures. Projects involved infrastructure redesign, consultancy, and the implementation of best practice operating processes. Prior to this, Mr. Batu worked for the SWIFT Center of Expertise in its Belgium HQ.
In this capacity, he was also involved in various industry initiatives, such as the management and rollout of SWIFTNet Phase1 and Phase2 network to various commercial banks and market infrastructures based in the UK.
Before joining SWIFT in June 2003 Mr. Batu held varied positions of Senior Technical Architect at firms such as JPMC, CLS Services and IBM Global Services. At IBM, and CLS, he was responsible for the implementation and integration of the varied platforms that made up the CLS Services solution.
Mr. Batu holds a Bachelor of Engineering degree in Civil Engineering from the University of Portsmouth (UK), and a Masters in Environmental Management, also from the University of Portsmouth.
SWIFT is the industry-owned co-operative supplying secure, standardized messaging services and interface software to nearly 8,900 financial institutions in 209 countries and territories. SWIFT members include banks, broker-dealers and investment managers. The broader SWIFT community also encompasses Corporates as well as market infrastructures in payments, securities, treasury and trade. Over the past ten years, SWIFT message prices have been reduced over 80% and system availability approaches 5X9 reliability – 99.999% uptime.
John Beatty, Clover, President and Co-Founder
John is the co-founder and President of Clover Network Inc. Previously he was an EIR at Sutter Hill and was the co-founder of a company called Bix, which sold to Yahoo. He also spent time at BEA Systems and SUN Microsystems. Follow on Twitter: @CloverPOS


Marla Blow, Partner, Fenway Summer & CEO, FS Card Inc.
Marla Blow serves as CEO of Fenway Summer's credit card venture, FS Card Inc. Marla joined Fenway Summer from the Consumer Financial Protection Bureau, where she was Assistant Director of Card and Payment Markets. Prior to joining the CFPB, Marla spent seven years in a variety of functions at Capital One. She was a Business Director within the company's Credit Risk Management division where she was responsible for completing the quarterly credit loss forecast on Capital One's North American credit card portfolio. Earlier in her tenure at Capital One, Marla served as a Finance Director responsible for financial management of a portion of the US credit card portfolio, as Director within the company's marketing and analysis division, and as a Senior Manager in corporate development.
Prior to Capital One, Marla was a Senior Research Analyst with Cameron Capital Management, a startup convertible bond arbitrage fund. At the outset of her career, she served as a Credit Analyst at BNP Paribas and a Financial Analyst with Morgan Stanley.
Marla holds an MBA from Stanford University and an undergraduate degree from the Wharton School at the University of Pennsylvania. She lives in Takoma Park with her family. Follow on Twitter: @FenwaySummer
Greg Brockman, Stripe, CTO
Greg is the CTO at Stripe, where he's helped scale the team from four to now 150 people. He's built and shaped large portions of Stripe's organization, culture, and technology. Prior to Stripe, Greg dropped out of both Harvard and MIT. He's originally from sunny Grand Forks, North Dakota. Follow Greg on Twitter: @thegdb / @stripe

Rose Broome, HandUp, Founder & CEO
Rose is the co-founder and CEO of HandUp, a crowdfunding site for homeless people and neighbors in need. 100% of donations on HandUp go towards basics like food, medical care, and housing through partnering social service organizations. Named as one of '30 women entrepreneurs making a difference in the community' by Business Research Guide and one of '19 extraordinary women in Silicon Valley Tech' by Business Insider, her work has been covered by CNN, BBC, Bloomberg, Wall Street Journal, Forbes, San Francisco Chronicle and TechCrunch, among many other publications. In 2014 Rose and her HandUp co-founder Zac Witte were named in the Top People in Tech by Business Insider.
Before founding HandUp, Rose worked as the COO of SuperBetter Labs, managing product and team operations and conducting research with academic partners including UPenn's Positive Psychology Center. Prior to SuperBetter, Rose pioneered predictive modeling research connecting social network data to student success outcomes for top US universities at Inigral, Inc. She also served as a data manager for Barack Obama's 2008 presidential campaign. Rose has her BS in Campaign Management from Santa Clara University and her MA in Psychological Research from San Francisco State University.
A firm believer in technology's capacity to solve the world's grand challenges, Rose founded the San Francisco Tech for Good Group to inspire collaboration between the tech community and social good organizations in the city. She's also a core organizer of Science Hack Day SF. Follow Rose on Twitter: @rosical / @HandUp
Pete Casella, JPMorgan Chase & Co, Executive Director of Strategic Investments
Pete is an Executive Director of Strategic Investments for JPMorgan Chase & Co. He works on behalf of the bank to make direct venture stage investments in emerging technology vendors where the bank can be a core strategic partner in its success. His sector coverage includes asset and wealth management, digital banking, payments, corporate technology, and market structure.
Prior to his current role, Pete was a Director of Principal Investments at Credit Suisse. Previously, he was a venture investor at FTV Capital, a $1bn venture and growth equity fund focused on financial services and fintech. He started his career at JPMorgan in the FIG Banking and the Asset Management Strategy groups.
Jamie Cohan, AllRounds Inc, Founder / CEO
Jamie has 25 years experience as a Founder, CEO, CFO and Board Member of internet companies and capital markets companies. He co-founded Andromedia, a web analysis, reporting and personalized ad software company which was sold to Macromedia . Currently his focus as CEO/Founder of AllRounds is to improve the private capital markets with an investment management and analytics platform to provide participants with greater insight, more liquidity, and risk management tools so that they can achieve their financial targets. He founded Round1 – Private Capital Marketplace which was the precursor to Crowdfunding.
On Wall Street, he worked at one of the first quantitative hedge funds. He also built Chemical Securities high bond research and trading system and was one of the first members of JP Morgans Private Client group.
Jamie holds a patent : Private Capital Management System and Method issued in 2011. Follow Jamie on Twitter: @JamieCohan
James Collier, Dotwerx, President
Jim is the founder of Dotwerx, a current maker of graphical vector-based technologies used in the development of patent-pending innovations in secure transactions and authentication, over non-secure networks. He is also designing/building patent-pending pattern recognition apps for mobile. He is a Harvard MBA software designer/developer, who has worked/consulted at Lotus, Apple, HP and Dropbox.
Joel Dietz, SWARM, CEO
Joel Dietz is the founder of Swarm, sometimes positioned as the Uber of Venture Capital. It uses Ethereum-style smart contracts to provide a frictionless system for investing that is referred to as Cryptoequity. Follow Joel on Twitter: @fractastical / @swarmcorp


Adam Draper, Boost VC, Founder
Adam Draper is the founder of Boost VC. He is a fourth generation venture capitalist, and Super Smash player extraordinaire. Adam co-founded a startup called Xpert Financial where he learned all of his startup lessons. He now takes those lessons and guides startups with his "Be Awesome" philosophy of building. Before starting Boost, Adam angel invested in 20 companies including Coinbase, Plangrid and Practice Fusion. His favorite movie is Notting Hill and his favorite pizza joint is Round Table. He also makes pickles. Follow Adam on Twitter: @AdamDraper / @BoostVC
Daniel Erasmus, DTN/ NewsConsole, CEO
Daniel is a visiting professor at Ashridge Business School and a fellow of the Rotterdam School of Management. He has lectured on the topic of scenario thinking to more than a thousand executives and post graduate MBA students at companies and business schools from Helsinki to Cape Town, Paris to Seoul.
Since 1996 Daniel Erasmus is a leading futurist and thinker, conducting scenario processes on technology, governance, education and the environment for governmental, foundation, and corporate clients. Daniel is a founder and director of the Digital Thinking Network (DTN), a consulting firm that provides scenario thinking and process transformation as well as expert systems that bring real-time analysis of media and public discourse to forward-looking organizations. With an international staff, Daniel has worked with clients that include Nokia, Rabobank, the city Rotterdam , Shell, Schlumberger, Sanoma, Telenor, Vodafone, KONE, and the Dutch Ministries of Foreign Affairs, Economic Affairs, and Spatial Planning. The outcome of a DTN scenario set secured a client €400M in additional value in 3 years following a key acquisition and subsequent sale. DTN scenarios anticipated the 2008 global financial crisis by two years, a $70 oil price (when it was $23), etc.
DTN's big data analytical platform NewsConsole is used by analysts at large organizations to track the progress of public thought in real-time. NewsConsole integrates more than a quarter-million sources of public commentary, including news wires, blogs, twitter feeds, and other social media, and uses a variety of sophisticated semantic analysis algorithms to make big data approachable at human scale, as world events unfold and public opinions shift. NewsConsole's primary users are some of the largest energy and financial services companies in the world as well as central banks and governmental ministries. Follow Daniel on Twitter: @danielerasmus
Ryan Falvey, Center for Financial Services Innovation (CFSI), Director, Innovation Labs
Ryan is Director of CFSI's Innovation Labs. He oversees the Financial Solutions Lab, bringing together innovators from the fields of technology, behavioral economics, nonprofit services and design to provide guidance, share best practices and develop scalable financial products. He loves to help organizations solve hard problems.
Prior to joining CFSI, Ryan was at Silicon Valley Bank, working with leading technology firms to develop innovative payment products and solutions. He also served as the Strategy Group Lead at Enclude Solutions, overseeing Enclude's global strategy consulting work in over 30 countries and supporting the development of several of the world's most successful mobile-enabled financial products. Ryan has a graduate degree from Yale and an undergraduate degree from UCLA. Follow Ryan on Twitter: @ryan_falvey / @cfsinnovation
Kiril Gantchev, BitLendingClub, CEO
I'm the CEO and co-founder of BitLendingClub, the fastest growing Bitcoin crowd-lending platform since its launch. Our main focus is to deliver innovative ways to facilitate secured Bitcoin loans. Bitcoin offers new challenges in the space of lending, so technological innovation always lead the way when threading in that field. From smart property to smart contracts, we're working hard to utilize the innovation behind the block-chain protocol in order to make crowd-lending possible in a decentralized systems. See our amazing progress at and ground-breaking results: www.bitlendingclub.com
I'm a software engineer by trade, an entrepreneur by spirit and an innovator by heart! Follow BitLendingClub on Twitter: @BitLendingClub
Ramneek Gupta, Citi Ventures, Managing Director
For over a decade now, Ramneek has had the opportunity to build, invest and partner closely with the entrepreneurial ecosystem of the Silicon Valley. Over the course of his career, he has both founded as well as invested in start-ups and is able to draw upon these experiences towards his mission of supporting the next generation of entrepreneurs.
He joined Citi Ventures in April 2011 to build an investing platform to identify and invest in leading start-ups in support of the strategic needs of Citi's consumer and institutional businesses. At Citi Ventures, he focuses on Big Data & Analytics, Commerce & Payments as well as Next Generation Fin Tech & Fin Services space and has led Citi's investments in leading companies including Square, Jumio, Ayasdi, Datameer and Platfora.
Immediately prior to Citi Ventures, he helped build out the product and sales at Zappedy, which was one of the first companies to leverage the payments rails to close the loop between online transactions and offline fulfillment. The company was acquired by Groupon to become the nucleus of Groupon Rewards, their merchant services platform.
Prior to Zappedy, he was a Partner at Battery Ventures, where he helped develop the Online to Offline (O2O) Commerce thesis and worked closely with portfolio companies including Groupon. While at Battery, he also led the India investment efforts for the firm and helped build out an investment team and portfolio in India.
He began his professional career as a design engineer at PMC Sierra and also worked on the hardware design team at TiVo.
An engineer by training, he has a MS in Mechanical Engineering from Stanford University and a B-Tech in Mechanical Engineering from Indian Institute of Technology (IIT) Bombay, where he graduated at the top of his class.
Bill Harris, Personal Capital, CEO
Bill Harris is CEO of Personal Capital and former CEO of Intuit and PayPal. With 25 years developing financial technology, Bill is busy dragging the financial industry into the 21st century. The nation's first digital wealth management firm, Personal Capital, gives people control over their financial lives.


Carleen Hawn, Healthspottr, Co-Founder / CEO
Prior to founding Healthspottr, Carleen spent fifteen years as a business journalist. She was an associate editor with Forbes and a senior writer and west coast bureau chief for Fast Company magazine. While with Forbes, she created the well-known Midas List, an index of leading venture capital dealmakers, currently in its fourteenth year of publication. Carleen holds a BA in political science from Barnard College, an MS from Columbia Journalism School, and she was a Knight-Bagehot Fellow at Columbia Business School.
Jeff Kaditz, Affirm, CTO
Jeff Kaditz is the CoFounder and CTO of Affirm, the next generation financial services company. Previous to Affirm, Jeff was the Chief Data Officer of ngmoco. He is a graduate of Carnegie Mellon University. Follow on Twitter: @affirminc



Greg Kidd, Hard Yaka, Co-Founder
Greg is co-founder of seed fund Hard Yaka, which has invested in many exchange and payments startups such as Coinbase, Marqeta, Kabbage, Balanced, and Coin. He's worked with and as a regulator at Promontory Financial and the Board of Governors of the Federal Reserve. He's a first round Twitter investor. Prior lives include Booz Allen (not for the NSA!) and taking Dispatch Management Services public on the NASDAQ. He's also served as an Outward Bound and National Outdoor Leadership School instructor. Follow on Twitter: @gregkidd
Joyce Kim, Stellar, Executive Director
Joyce is the Executive Director of Stellar.org, a nonprofit organization focused on open financial access. Stellar is a common payments platform that increases interoperability between diverse financial systems and currencies. Prior to Stellar, Joyce was a VC at Freestyle Capital and an entrepreneur. She was also an attorney at Wilmer Hale and Sherman & Sterling and pro bono at Sanctuary for Families and the Innocence Project. Joyce graduated from Cornell University at the age of 19, followed by graduate school at Harvard and Columbia Law School. She is presently a Director's Fellow at the MIT Media Lab. Follow Joyce on Twitter: @joyce / @StellarOrg
Steve Kirsch, Cointrust, CEO
Steve Kirsch is a serial entrepreneur based in Silicon Valley. His companies have pioneered technologies such as the optical mouse, web search, document editing, and anti-spam. In 2012, he started OneID to create a single, trustable identity that could be used to securely log into any website. In Feb 2014, OneID was named one of the "World's Top 10 Most Innovative Company in Finance" by Fast Company. In March 2014, he started Cointrust to enable consumers and businesses to make secure, instant worldwide financial transactions. Steve has SB and SM degrees in Electrical Engineering and Computer Science from MIT. Follow Steve on Twitter: @ stkirsch
Jordan Lampe, Dwolla, Director
Since 2010, Jordan has overseen Dwolla's communication and corporate strategy, navigating the company's public image, product, and brand through the complex, crowded, and very regulated payments market space these last four years. In 2013, Lampe also established Dwolla's public and policy affairs division for the company in early spring. Since then, the program has consulted the Federal Reserve in its Federal Payments Improvement Project, assisted national policymakers on fintech and regulation, and spoken with FCC Director Tom Wheeler on Net Neutrality.
Lampe's previous work includes agency and Foreign Service experience. Lampe also serves as special member on the Iowa Governor's STEM Advisory Council. Follow Jordan on Twitter: @jslampe / @dwolla
Chris Larsen, Ripple Labs, CEO and Co-Founder
Chris Larsen is CEO and Co-founder of Ripple Labs, creators of Ripple, an open-source, distributed payment protocol. Mr. Larsen also cofounded and served as CEO of Prosper, a peer-to-peer lending marketplace, and E-LOAN, a publicly traded online lender.
During his tenure at E-LOAN, he pioneered the open access to credit scores movement by making E-LOAN the first company to show consumers their FICO scores. Mr. Larsen also played a pivotal role in the passage of the strongest consumer financial privacy law in the nation and was hailed by Congresswoman Jackie Speier as being, "critical to the success of the bill." Mr. Larsen serves at the Board and Advisory levels at numerous companies and organizations including: Progreso Financiero, Betable, CreditKarma, and Electronic Privacy Information Center (EPIC). Mr. Larsen holds an M.B.A. degree from Stanford University and a B.S. degree from San Francisco State University, where he was named the 2004 Alumnus of the Year. Follow on Twitter: @ripple
Gary Le, ZeroBit, Co-founder
Gary Le is a Co-founder of ZeroBit. ZeroBit is a next-generation cryptocurrency with a vision to be a better version of Bitcoin – significantly faster, significantly more private, and significantly more democratic. ZeroBit is the world's first cryptocurrency to have successfully implemented the ZeroCoin protocol, solving Bitcoin's privacy problems. Gary studied at Dartmouth College, but stopped out to be a fellow in the Thiel Fellowship program. He is passionate about new technologies. Follow on Twitter: @zerobitproject
Jonathan LeBlanc, Braintree + PayPal, Head of Global Developer Advocacy
Jonathan LeBlanc is an Emmy award winning software engineer, author of the O'Reilly book "Programming Social Applications", and the Head of Global Developer Advocacy for Braintree and PayPal.
Specializing in identity, auth and security, hardware to web interconnectivity, and data mining techniques, as well as open source initiatives around social engagement, Jonathan works on the development of emerging initiatives towards building a more user-centric web. Follow on Twitter: @braintree_dev / @jcleblanc
Christine Loredo, Yodlee, VP, Yodlee Interactive
As VP for Yodlee Interactive, Christine drives financial technology innovation through a rapidly growing ecosystem of partners and developers creating market-leading digital consumer apps and services powered by Yodlee's unique data platform. Furthermore she leads NEXT by Yodlee Interactive, built to accelerate the success of the Yodlee Interactive ecosystem of companies throughout their lifecycle.
Christine has more than 15 years' experience marketing digital products and services to business and consumer audiences. She also led mobile marketing and partnerships for leading brands including Yahoo!, and AOL where she won many awards for her work.
She has an Masters in International Management from Thunderbird, an MBA from the University of Colorado at Denver and an undergraduate degree in Business Administration from University of Colorado at Boulder. Follow Christine on Twitter: @christineloredo / @Yodlee
Chris Lunt, GetInsured, Vice President of Engineering, Private Health Insurance Exchange
Chris is a vice president of engineering at Palo Alto-based GetInsured, which sells health insurance plans directly to consumers. Chris leads the team responsible for delivering this experience. An experienced technology executive and developer, he has worked for numerous start-ups, public and private and he is the author of 10 fundamental social networking patents now owned by Facebook. Prior to GetInsured, Chris was an entrepreneur in residence with the Department of Health and Human Services.
Gregory Maxwell, Blockstream, Co-Founder
Greg was one of the key architects of the two-way peg which makes sidechains possible. He has been a Bitcoin core developer since 2011, and is one of the most active reviewers of cryptographic protocol proposals in the Bitcoin industrial ecosystem. He has contributed to many widely-used techniques in the Bitcoin space, such as the homomorphic key derivation used in BIP32 and trustless privacy-preserving techniques such as CoinJoin and blinded proof of solvency. Greg is a long-time free software developer and comes to Blockstream from Mozilla where he contributed to the Daala video compression project and coauthored the Opus audio codec (RFC 6716). He also has over 15 years of experience developing, implementing and operating embedded systems and protocols for large-scale networking. For many in the Bitcoin community, Greg is likely the person telling you that your protocol is broken and why, but he usually feels pretty bad about it.
Jed McCaleb, Stellar, Board Member / Developer
Jed is a co-founder of Stellar Development Foundation. In 2000, he created e-Donkey which became one of the largest file-sharing networks in its time. He later created Mt. Gox, the first bitcoin exchange, which was subsequently sold and re-coded by its current owners, followed by Ripple.


Dan Morehead, Pantera Capital, CEO
Dan founded Pantera Capital Management in 2003. He also co-founded and was CEO of Atriax, an electronic foreign exchange platform. Prior to that, he was head of macro trading and CFO at Tiger Management, global head of FX options at Deutsche Bank in London, and managed a global macro fund and derivatives trading units in North America and Japan at Bankers Trust. Dan began his career at Goldman Sachs as a mortgage-backed securities trader. Dan graduated magna cum laude from Princeton University with a B.S. in Civil Engineering and received the Carmichael Prize for an outstanding thesis. Follow on Dan Twitter: @dan_pantera / @PanteraCapital
Jackson Palmer, Dogecoin, Co-Founder
Jackson is a marketing guru, crypto currency enthusiast, developer and lecturer. Infamous for creating the ultra popular digital currency known as Dogecoin. By day, he is a Product Marketing Manager focusing on Creative Cloud services at Adobe.
Follow Jackson on Twitter: @ummjackson / @dogecoin

Christian Peel, Ethereum
Christian Peel is the organizer of the Silicon Valley Ethereum meetup, and an advisor to Blockchain University. In his day job he is an wireless engineer and directs LTE research for ArrayComm; he is a senior member of IEEE.
Follow Christian on Twitter: @ChristianPeel


Sean Percival, 500 Startups, Partner
Sean Percival is a Venture Partner at 500 Startups where his focus is on Bitcoin investments and running the accelerator in Mountain View, California. Sean is a full stack marketer who is passionate about giving organizations an unfair advantage in the marketplace. He is an authority on earned media, online marketing and SEO.
Follow Sean on Twitter: @500startups / @percival
Paige Peterson, MaidSafe, Technology Evangelist & Web Developer
While working towards a BFA in Interrelated Media from Massachusetts College of Art, Paige developed an interest in writing programs for interactive art installations and a general fascination towards the complexity and decentralization of natural systems. Soon after graduation, Paige stumbled upon an amazing opportunity to work for mesh networking startup, Open Garden as designer, front end developer and community manager. This experience helped to map her interest in natural decentralized systems onto concepts within technology. Now, Paige works as web developer and technology evangelist for MaidSafe who are building an entirely decentralized Internet protocol free from servers, surveillance and control called the SAFE Network. Additionally, she co-organizes twice per month events for the 1700+ member San Francisco Bitcoin meetup. Follow Paige on Twitter: @ioptio / @maidsafe
John Pettitt, Cloudview LLC, Managing Partner
An innovative founder and technologist at the forefront of Internet discovery and emerging technologies and applications, John Pettitt has created and led successful technology companies for 30 years.
John has had three successful co-founder exits including one sale (Specialix) and two successful IPOs (CyberSource and Beyond.com). CyberSource was subsequently purchased by VISA for $2 billion and Beyond.com went on to achieve $100 million in revenues.
As CEO/Founder of Repost, John created a unique open content syndication platform that preserved content integrity, attribution and monetization while allowing open sharing.
A pioneer in content protection and e-commerce, he is the inventor of multiple U.S. technology patents in cryptography, online fraud detection and content distribution. John established the first commercial, non-academic, internet connection in the UK for Specialix PLC and went on to create some of the first e-commerce software for software.net (Beyond.com) and pioneering internet fraud detection software for CyberSource.
John is a nationally published photographer, a past winner of the British Design Award, a volunteer community mediator at Burning Man, and sits on the Fundraising Advisory Board of the Electronic Frontier Foundation. Follow John on Twitter: @jpp123
Suresh Ramamurthi, CBW Bank, Chairman
Suresh Ramamurthi is Chairman of CBW Bank. He leads CBW Bank's initiatives to support and foster innovation including working with financial services start-ups. A veteran technology entrepreneur, Suresh has founded and exited two start-ups, and has previously worked at Google Inc. Suresh has a Bachelor's degree in Electronics and Communication Engineering, a Master's degree in Computer Science and a Master's degree in Business Administration from the University of Chicago.
Jay Reinemann, BBVA, Head of BBVA Ventures
Mr. Reinemann is the Head of BBVA Ventures, the venture capital arm for BBVA S.A., a global retail financial group founded in 1857 with over 50 million customers in 33 countries. Some of BBVA's investments include: SaveUp, Taulia, DocuSign, SumUp, 500 Startups, Ribbit Capital and Simple.
Prior to BBVA, he led Visa Inc's venture program focused on delivering strategic and financial to the world's largest payments company through investments and global partnerships with emerging technology companies. Mr. Reinemann was also an executive at Andersen Consulting, Old Kent Bank and Trust (Fifth Third Bank) and social commerce startup Ticket Truck (Sohalo). Follow Jay on Twitter: @JayReinemann
Evan Richardson, Grand Rounds, VP of Product and Customer Experience
Evan Richardson is the VP of Product and Customer Experience at Grand Rounds. Grand Rounds provides patients with priority access to world-class medical care for better healthcare outcomes. Prior to Grand Rounds, Evan was Head of Enterprise Products at Castlight Health.
Joe Robinson, Circle, VP, Product
Joe Robinson is the VP of Product at Circle, a startup in the emerging digital currency space. He organizes two of the largest design and technology communities in the country: Designers + Geeks and Silicon Valley NewTech. Joe previously worked at Square, where he was product lead for Square Dashboard and Square Market. Joe loves creating new experiences and spreading big ideas. You can find him on Twitter as @i8joe.
Scott Robinson, Plug and Play, FinTech Director
Scott leads the FinTech initiative at Plug and Play, a global startup accelerator headquartered in Silicon Valley. Scott co-founded Plug and Play Bitcoin with Saeed Amidi, Founder & CEO of Plug and Play. Additionally, Scott is co-organizer of the Silicon Valley Bitcoin Meetup, the world's first Bitcoin Job Fair, and an investor in startups including 37coins & Blockscore. Scott graduated from UCLA in 2008, where he received his B.A. in History. Follow Scott on Twitter: @thescottrob / @PlugandPlayTC
Dan Robles, The Ingenesist Project, Director
Dan Robles is making his fourth appearance at Future of Money and Technology Summit. Each time he brings advancements in the areas of intangible asset valuation to the discussion on the future of money. This time will be no different.
The Ingenesist Project is developing an analog to digital converter for knowledge assets intended to facilitate the economic reorganization of society around abundant intangibles (social, creative and intellectual capital) instead of scarce tangibles (land, labor, capital) as factors of production. His company Coengineers, PLLC is a profit making engineering firm that underwrites GEN, a 2nd generation altcoin backed by engineering contracts and associated intangible asset productivity.
Dan has an extensive career in Aerospace, Construction, and International Trade with a passion for hacking the next economic paradigm. Dan is a licensed professional engineer and holds an MBA from Seattle University. He resides in the Seattle area. Follow on Twitter: @ingenesist / @coengineers
Mark Rogowsky, Forbes, Technology Writer
Mark Rogowsky is currently a regular technology writer for Forbes, covering everything on the cutting edge from mobile to streaming media to payments. He has a background as an internet entrepreneur, having founded multiple companies in Silicon Valley. Follow Mark on Twitter: @maxrogo


David S. Rose, Gust, Founder & CEO
David S. Rose is a serial entrepreneur, Inc 500 CEO, and active early stage investor who has founded or funded over 100 pioneering companies. He has been described by BusinessWeek as a "world conquering entrepreneur", by Forbes as "New York's Archangel", and by Red Herring magazine as "patriarch of Silicon Alley", and is author of the New York Times Best Seller, Angel Investing: The Gust Guide to Making Money & Having Fun Investing in Startups. In 2014 he was named "Greatest Angel Inspirator of the Year" by EBAN, the European Trade Association for Business Angels, Seed Funds and Early State Market Players. David is the founder and CEO of Gust, which operates the international standard collaboration platform for startup financing, used by over 50,000 investors and 300,000 entrepreneurs in over 100 countries. Gust received the 2012 SWIFT/Innotribe Award as the world's most innovative financial technology startup, and has won the SIIA CODiE Award for Best Collaboration Solution in 2012, 2013 and 2014.
David is also Founder and Chairman Emeritus of New York Angels; Managing Partner of Rose Tech Ventures; Co-founder and Managing Director of the AREA real estate technology accelerator; and Associate Founder and Founding Track Chair for Finance, Entrepreneurship and Economics at Singularity University, the Google/NASA-sponsored post-graduate program in exponential technologies (see his classic lecture on Entrepreneurship.
He is Chairman of Social Bicycles, waywire.com, and Miner, and serves on the boards of KoolSpan, TekServe and New York Tech Meetup. He was named Mentor of the Year by NYU's Stern School of Business, serves on the Entrepreneurship Advisory Boards of Columbia Business School and Yale University, and his TED video on raising venture capital has been viewed over 900,000 times. A native New Yorker, David has a BA in Urban Affairs from Yale University, an MBA in Finance from Columbia Business School and a D. Eng. (hc) from Stevens Institute of Technology. Follow on Twitter: @davidsrose / Follow on Quora: David S. Rose
Daniel Rosen, Commerce Ventures, Partner
Dan founded Commerce Ventures in 2013 and has been investing in tech startups for 14 years. He is a frequent speaker at conferences, contributor in industry press and startup mentor in various accelerator programs.
Prior to starting Commerce Ventures, Dan was a Principal at Highland Capital Partners, where he focused on mobile and payments-related startups. He has also worked as an Associate at HarbourVest Partners, in Corporate Development at RSA Security (Acq'd by EMC); and as a software consultant for American Management Systems (Acq'd by CGI Group).
Dan studied Finance and Information Systems at the University of Pennsylvania and earned an MBA from Harvard. Follow him on Twitter: @VentureDan
Jake Rosenberg, LendUp, CTO & Co-Founder
Jacob Rosenberg is the CTO and Co-founder of LendUp, a startup offering an online alternative to payday loans. As a technologist with over eighteen years' experience architecting large scale web applications, he is focused on using technology to solve challenging problems and improve people's lives. Prior to launching LendUp in October of 2012, Jacob was the 80th employee at Yahoo! and helped create some of the most enduring Yahoo! products, such as Yahoo! Search, News, Auctions, and Travel. He was most recently a platform architect for Zynga. Jacob has a B.A. in Computer Science from Rice University. Follow on Twitter: @LendUpLoans
Holly Ruxin, Montcalm TCR, CEO
Holly is the CEO and Founder of Montcalm TCR a private wealth management company founded with the intention of effective change for individuals, companies and foundations within a better socio economic model of capital markets and investing. Through customized and collaborative relationships she brings to their clients an investment management experience that encompasses leading-edge expertise, transparency, integrity, and an extensive array of investment resources, products, and opportunity. With the focus on capital markets that provide value across the entire spectrum thereby everyone benefits. Prior to running Montcalm TCR, Holly ran a team at Morgan Stanley in their Private Wealth Management group specializing in comprehensive qualitative investment management paired with intelligent capital markets insight, trading, and investing. Prior to joining Morgan Stanley, Holly built her business at Montgomery Securities and Bank of America where her team built a client base of entrepreneurs, families, and not for profits. Holly started her investment career at Goldman Sachs where she gained her breadth of capital markets expertise working on the fixed income derivatives desk where risk management was paired with the understanding of securities, complex derivatives, and fixed income. Holly has an MBA from Columbia University in Finance and a BA in Economics from the University of Michigan and lives in San Francisco with her husband, and their three children. Follow Holly on Twitter: @hollyruxin
Barry Saik, Intuit, Senior Vice President and General Manager, Consumer Ecosystem Group
Barry Saik is senior vice president and general manager of Intuit's Consumer Ecosystem Group. He leads a new organization, created in 2013, that is responsible for solving important consumer problems and creating network effects between Intuit's consumer and small business products.
Saik most recently served as general manager of the company's Grow Your Business division, which included overseeing Intuit Websites and managing its divestiture in 2012.
He initially joined the company in 1995, leaving in 1998 to become the marketing director of at Remarq Communities, which was acquired by Critical Path, Inc. in January 2000, where he became director of product management. Saik returned to Intuit in 2002, and has held a variety of leadership roles in the TurboTax business, including roles in product management, marketing and software engineering, in addition to leading the Quicken business.
Saik earned an MBA from UCLA, and bachelor's degrees in general engineering and in communications from Stanford University. Follow Barry on Twitter: @barrysaik / @Intuit
Arjan Schütte, Core Innovation Capital, Co-founder and Managing Partner
Arjan Schütte is the founder and a managing partner of Core Innovation Capital, a venture capital fund targeting financial technology companies that serve the emerging middle class. He is also a Senior Advisor to the Center for Financial Services Innovation, the nation's leading authority on the underbanked market. He was previously a senior manager at CFSI from its inception until Core was launched in 2010. Arjan is cited broadly, blogs for Forbes, and regularly speaks at industry conferences. Follow Arjan on Twitter: @coreEMC
Nick Shalek, Ribbit Capital, Partner
Nick Shalek is an Partner at Ribbit Capital, a venture firm intent on changing the world of finance. Ribbit invests in entrepreneurs building disruptive companies focused on lending, personal finance, financial software, and bitcoin. Examples of Ribbit portfolio companies include Coinbase, Credit Karma, Wealthfront, Xapo, and Funding Circle.
Prior to Ribbit, Nick served as Entrepreneur-in-Residence at Aspire Public Schools, where he incubated Schoolzilla, a cloud-based teacher and student data management service. Earlier in his career, Nick worked at Yale Investments, taking part in over $800 million in new investment commitments across a diversity of asset classes, including U.S. public equities, venture capital, and natural resources. Nick was also elected to New Haven Board of Alderman, where he focused his efforts on the city's economic development and education policy. Nick earned a BA in Economics and Political Science at Yale University, as well as an MBA and MA in Education at Stanford University. While at Stanford, Nick worked with Facebook on initiatives around its virtual currency, Facebook Credits. Follow Nick on Twitter: @nshalek
Jaidev Shergill, Head of Capital One Ventures
Jaidev Shergill is leading venture investing at Capital One. His focus is on finding and working with interesting FinTech companies across the U.S. Prior to Capital One, Jaidev founded Bundle.com, a big data consumer facing application that rated businesses based on peoples credit card spending transactions. Bundle was acquired by Capital One in late 2012. Through that partnership, Bundle's team seeded the NYC office of Capital One Labs.
John Shinal, USA Today, Tech Columnist
John Shinal writes the New Tech Economy column 3 times a week for USAToday.com. He's covered tech and financial markets for two decades at Bloomberg BusinessWeek, the San Francisco Chronicle, Dow Jones MarketWatch, Wall Street Journal Digital Network, and Entrepreneur.com. Follow on Twitter: @johnshinal
Mike Sigal, Cashflower, Founder & CEO
Mike Sigal is Founder & CEO of Cashflower, which provides small business cash-flow forecasting and management tools to small businesses and financial institutions. Mike is a repeat entrepreneur, consultant and advisor specializing in business development, storytelling and corporate innovation strategies with over 20 years' experience in the global startup ecosystem. In addition to his role at Cashflower, Mike serves as Senior Advisor to the SWIFT's Innotribe Startup Challenge and several startups, and is an active startup mentor via 500Startups, SeedCamp, IBM SmartCamp, Happy Farm & IncubaUC. Follow Mike on Twitter: @mikesigal / @agilecredit
Sonny Singh, BitPay Inc., Chief Commercial Officer
Sonny Singh is the Chief Commercial Officer of BitPay which is the largest processor of bitcoin in the world. BitPay has raised over $30M in funding from Founders Fund, Index Ventures, and Richard Branson.
Previously, Sonny was part of the founding sales team at Jumio where he was the first VP of Sales and Business Development. Jumio is a leading mobile payments and identity company that has raised over $40M in funding from Andreessen Horowitz and Citibank. Prior to Jumio, Sonny was part of the founding sales team at InMage Systems (acquired by Microsoft) and a Sales Manager at Niku (acquired by Computer Associates).
Sonny is a frequent speaker on payments and ecommerce. He is also an Advisor to Lumia Capital and is an angel investor in several companies including TubeMogul, Getaround, Jumio, Sendhub, and Estate Assist. Sonny has an MBA from Thunderbird, is a graduate of Binghamton University (NY) and studied at Cambridge University in England.
Nick Sullivan, Changetip, Founder & CEO
Nick Sullivan drives technology development. As a founder of three companies, and engineering leadership at three others, he understands what it takes to build top-quality technology teams that accomplish a business' goals. Nick has created tens of millions of dollars worth of value at multiple companies, driven by an insatiable appetite for getting things done. He accelerates the velocity of teams with sound decision making, excellent software development and management practices, and cultural engineering to keep teams happy and motivated.
Over the years, Nick's primary focus has been on Web-based product development, specializing in JavaScript (including Node.js), Python, continuous integration, open source, Django, cloud, Linux, MySQL, scaling Web applications, caching, HTTP, front-end performance, geographic tools, text search, PHP, Texis, and company architecture.
Nick gives back to the entrepreneurial community by helping to run the SF JavaScript Meetup (the world's largest), participating in the 106 Miles Meetup, mentoring and tutoring startups through 500 Startups and Plug & Play Tech Center, and advising multiple startups.
With his investor hat on in the Bitcoin community, Nick is an active partner in the largest Bitcoin syndicate on AngelList.
Jeanine Swatton, Yodlee, Director of Developer Evangelism
Jeanine is the Director of Developer Evangelism at Yodlee and the Director of Wearable Technologies SIG at Silicon Valley China Wireless Organization. She taught iOS development and Ruby on Rails at a few universities. Jeanine has a Master's degree in Computer Science from Boston University and has over 15 years of software engineering experience as well as extensive experience leading engineering teams. Jeanine is a member of Women in Technology International, the Society of Women Engineers as well as Computer Users Educator Organization. She is a huge advocate for STEM (Science, Technology, Engineering and Math) programs. Jeanine organizes the Women in Technology Meetup, Silicon Valley Ruby on Rails Meetup, and the East Bay Ruby Meetup. She is also a Technical Mentor for high school students at Technovation.
Follow Jeanine on Twitter: @jswatton / @Yodlee
Bill Tai, Charles River Ventures, Partner Emeritus
Bill Tai is an experienced investor and builder of technology based companies. He has served as a Board Director of seven publicly listed companies he initially funded as startups, including iAsiaWorks which he founded as CEO. He is founding Chairman of Treasure Data, a leading provider of cloud cased Big Data infrastructure and also IPInfusion, the pioneer in Linux based software defined networking. Bill is a Board Director of BitFury.org, Lulu & Voxer and an early personal investor in fun startups such as About.me, Aloha.com, Shoes of Prey, Tango.me, Tweetdeck/Twitter, & Zoom.us. Bill established the Silicon Valley office of Charles River Ventures and represents them as Chairman of Maxthon and investor in startups such as Ark.com, Scribd & Wish.com.
When not building startups he is an Adjunct Professor at Curtin University, in Western Australia, serves on the World Economic Forum Technology Pioneer Committee and works with Susi Mai as a co-creator of MaiTaiGlobal.org. Now in his 14th year of kiteboarding, he is a USA team rider with Cabrinha Kiteboarding. Follow Bill on Twitter: @KiteVC
Rishi Taparia, Poynt, VP Business Operations
Rishi Taparia is Vice President at Poynt, the creator of the world's first smart payment terminal. Prior to joining Poynt he worked as a VC with Matrix Partners helping early stage companies including ApartmentList, Canva and Bugsnag grow and scale. Rishi began his career with Apple's Higher Education Marketing division, helping the company market to educational institutions throughout the Midwest. As a Canadian citizen of Indian origin who grew up in Jakarta, Indonesia, the "where are you from?" question is always the most difficult to answer. Follow on Twitter: @getpoynt / @taps
Nicholas Thorne, Blocksign
Nicholas Thorne is the co-creator of Blocksign, a blockchain service for signing contracts and recording agreements. Blocksign is a product of Basno, the digital credential and certification platform, of which Nicholas is the CEO. Nicholas is a born and raised New Yorker. He graduated from Yale and began his career as a technology and media investment banking analyst at Goldman Sachs. He speaks broken Mandarin and is most interested in how trust works when five billion people are using the Internet. Follow on Twitter: @blocksignit / @thorneny
Justin Woo, Paypal / Braintree, Developer Advocate
Justin Woo is a Developer Advocate at PayPal and has been programming ever since he got his first IBM XT running DOS. He loves writing mobile applications (especially hybrid-HTML5 applications) and wishes everything could be done in LISP. In his spare time he enjoys tinkering around with cool hardware. He's built a game for children with autism, a Robot that can be controlled remotely and even a Kinect game involving tapeworms. He graduated from Purdue University with a degree in Computer Engineering and was previously a Program Manager at Microsoft. He lives with his wife and two wonderful dogs – one of which refuses to admit that he is blind and the other that likes to pretend she's a rabbit. In his spare time he loves playing squash and board games (his favorite being Settlers of Catan). He also grew up in Singapore and so please don't mind his Singlish. Follow on Twitter: @PayPalDev / @jzwoo
Sam Yilmaz, Decentralized Applications Fund, Managing Partner
Sam is the co-founder and the Managing Partner of Decentralized Applications Fund, which is the first venture fund to raise all of its investment capital in cryptocurrency and invest only in Bitcoin 2.0 applications. Previously, he had co-founded and managed BitAngels(BitAngels.co), growing the network from 60 to 500 members (world's largest angel group). He is a published author, has a triple degree bachelors and a Master's of Engineering from Johns Hopkins University. Follow Sam on Twitter: @materionaut
Brian Zisk, Future of Money & Technology Summit, Executive Producer
Brian Zisk is a serial entrepreneur specializing in digital media, web broadcasting and distribution technologies. He is a founder of BuzzMakers, Inc., which produces the Future of Money & Technology Summit and the SF MusicTech Summit. He is a co-founder of the SF MusicTech Fund. Additionally, Brian is a Co-Founder and Technologies Director of the Future of Music Coalition and a Board Member and/or Strategic Advisor for a wide variety of tech companies and non-profits. Brian was previously a founder of The Green Witch Internet Radio which was sold to CMGI (NASDAQ: CMGI) at the turn of the millennium. He is active in many influential computer-mediated forums, is quoted and published extensively in the media, frequently appears on panels and at industry events domestically and abroad, and is an expert at frenzy whipping, brand awareness, and in creating new business models. Follow Brian on Twitter: @zisk
________________________________________________
Sponsors of the 2014 Future of Money & Technology Summit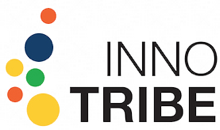 Innotribe is a SWIFT initiative that brings together global innovators, investors, financial industry executives, strategists, Banks' operations and technology leaders, and venture capitalists, all willing to drive change for the benefit of the financial service industry.
With our Innotribe Startup Challenge competition, we seek to bridge the gap between the Fintech startup ecosystem and the financial community, by bringing early insights into innovations that could disrupt current business models and create opportunities for new ones. Innotribe is about connecting people, networks and ideas. Read ours, share yours and join the Tribe!

Citi Ventures is the innovation engine of Citi, committed to conceiving, launching and scaling new initiatives with the potential to transform the financial services industry. Focused on four key areas of importance to Citi – Commerce & Payments; Security & Enterprise IT; Big Data & Analytics; Financial Technology – the team drives for impact by investing in startups, accelerating product roadmaps, and commercializing new technologies. Through these efforts, Citi Ventures seeks to identify and pursue cutting-edge possibilities for Citi and its customers.


Startup Blueprint is the only program designed to fuel profitability for your startup by providing free payment processing and advice. Connecting through top tier incubators, accelerators and VCs, we activate the optimum revenue model for your business. Startup Blueprint provides global mentorship and support for the startup community. Each of our startups receives 1:1 attention, dedication and white glove support from our Startup Advisors, all of whom have started their own startups or worked at an early stage startup.

Capital One Financial Corporation (www.capitalone.com) is a financial holding company whose subsidiaries, which include Capital One, N.A., and Capital One Bank (USA), N. A., had $204.3 billion in deposits and $300.2 billion in total assets as of September 30, 2014. Headquartered in McLean, Virginia, Capital One offers a broad spectrum of financial products and services to consumers, small businesses and commercial clients through a variety of channels. Capital One, N.A. has approximately 900 branch locations primarily in New York, New Jersey, Texas, Louisiana, Maryland, Virginia and the District of Columbia. A Fortune 500 company, Capital One trades on the New York Stock Exchange under the symbol "COF" and is included in the S&P 100 index.
YouNoodle is a growing global network for startups and an end-to-end digital platform used by some of the biggest brands, universities, governments and more, to create, manage, and judge startup competitions. YouNoodle has created a global talent network of 50,000 startups and has become a premier resource for expanding access to the best ideas and brightest talent across the globe.


AccountingSuite is a San Francisco startup funded by parent company 1C LLC, an international enterprise software group with more than 1 million business customers in Asia and Europe. Our mission is to provide easy-to-use, no-nonsense business software for startups, entrepreneurs, and established businesses to manage their finances and day-to-day operations.
For the private companies, investors, matchmakers, service providers, and individuals that comprise the private capital industry, AllRounds provides on-demand, pay-as-you-go software applications that automate private capital management workflows and data flows that exist inside — and between — each of them. This saves each of them time and money, reduces risk, and increases capabilities and opportunities.


Eventbrite brings people together through live experiences. Discover events that match your passions, or create your own with online ticketing tools.




Circle is a consumer finance company focused on transforming the world economy with secure, simple, and less costly technology for storing and using money. Circle was founded in 2013 by Internet entrepreneur Jeremy Allaire and is backed by $26 million in venture funding from Breyer Capital, Accel Partners, General Catalyst Partners, and Oak Investment Partners.


BitLendingClub is the fastest growing international Bitcoin crowd-lending platform. We set out to use block-chain technology in order to make P2P Bitcoin lending a secure and sustainable reality. We take the necessary steps to protect lenders in order to allow them to invest freely.



Sonic. is a locally based Internet Service Provider that has been providing cutting-edge technology in the industry for over 19 years. We work with many start-ups and tech based companies to provide them with the best voice and data services based on their individual business needs. Our services range from Ethernet over Copper, NxT1, Fiber and Voice products at very competitive price points. Please call 415-271-3411 and we'll take great care of you. We are now providing excellent bandwidth in Los Angeles, as well as Northern California. Sonic.net is Brian Zisk's favorite ISP.

ChangeTip allows people to express appreciation and pay other individuals or organizations via monetary "tips." Tips are sent within the context of each social platform experience and allow users to transact seamlessly in the normal course of their Twitter, Reddit, YouTube and other social media interactions. In this way, ChangeTip represents not only the next generation of financial payment infrastructure, but also the next iteration of the Internet of Value. Built using Bitcoin blockchain technology, the company's platform allows instant transactions between two parties. The company's product suite includes the Tip.Me widget, which allows any content producer (artist, writer, musician, publication) to accept tips over the ChangeTip platform.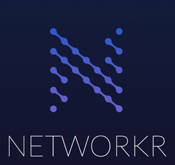 We believe that there should be a better way for professionals to connect and share their passion. The constructive sharing of a mutual passion can only take place via dialogues. To make this easier for professionals we built Networkr.


WP Engine powers tens of thousands of websites and apps built with WordPress, delivering the fastest, most reliable, and most secure web experience possible. Businesses large and small rely on WP Engine's exceptional customer service team that specializes in quickly solving technical problems, and creating a world-class customer experience. The service includes top-notch support (the most WordPress experts on staff per 1000 customers), one-click backup/restore, one-click deployment from staging to production, version control, optimization for speed and scalability, and security features that include automatic software upgrades.


VentureBeat covers disruptive technology and explains why it matters in our lives. Led by Founder & Editor-in-Chief Matt Marshall and a team of experienced journalists, we're the leading publication for news and perspective on the most innovative technologies. We also produce events that are renowned for the quality of their content, their networking opportunities, and the flawlessness of their execution.


Whether you are a local resident starting a small business, an international corporation opening an American headquarters, or a medium sized company considering expansion, San Francisco is the ideal location.


San Francisco is the innovation capital of the world. OEWD supports the City's ongoing economic vitality by strengthening its neighborhoods, businesses, commercial corridors, and workforce. Our goal is to ensure that the City will always be one of the best places on the planet to live, work and play.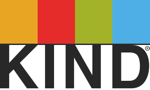 There's healthy. There's tasty. Then there's healthy and tasty. At KIND, we believe you deserve both—we call it our brAND philosophy. That's why you'll find all of our snacks are pretty much the nirvana of healthful tastiness. What began with just 8 bar varieties in 2004 has grown to over 22 bars and 6 Healthy Grains snackable clusters, and a multitude of new recipes being perfected and refined to our standards in the KIND kitchen. So whether your snacking style is choosy or adventurous (or a little bit of both), here's something to celebrate: we'll always be thinking up new ways to delight your taste buds and keep your body happy.